Events
| | | |
| --- | --- | --- |
| | 27th/28th of February 2018 | Kick-off Meeting at Profactor in Steyr |
| | 29th/30th of August 2018 | General Meeting at UNIPD in Padova |
News
27th/28th of February 2018.  Kick off meeting.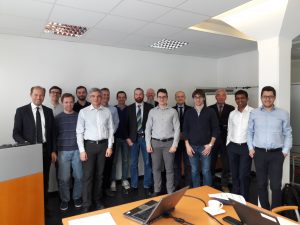 The SPIRIT project had its first meeting at Profactor in Steyr. At freezing temperatures below -10° the whole consortium met to discuss the first steps in the project. A detailed presentation of the various test cases and their challenges was followed by a planning process that covered the next 6 to 9 months. All partners provided substantial background in their fields and – due to past collaborations – a smooth start of the project could be achieved. Already at this stage the main interfaces could be clarified and a common understanding of the main goals and the next steps was achieved.
2nd January 2018. The project SPIRIT is started. The project's web page has been set up.