Events
| | | |
| --- | --- | --- |
| | 27th/28th of February 2018 | Kick-off Meeting at Profactor in Steyr |
| | 29th/30th of August 2018 | General Meeting at UNIPD in Padova |
| | 27th/28th of February 2019 | General Meeting & Demo #1 at CRF in Orbassano |
News
29th/30th of August 2018. M08 General meeting.
Right after summer vacation the consortium met in Padova where the general meeting was hosted by partner UNIPD. The meeting was dedicated to finalizing the definition of the use cases that are being investigated in the project with the goal of deducing a generally applicable software framework. The modelling of the inspection processes and the collection of CAD data of test parts and workcells has made significant progress. Tests with different inspection technologies have been made to confirm the suitability of the technologies for the single test cases. At the end of the meeting a dmeonstration was made by UNIPD to show the recent process in terms of hand-eye calibration and temporal synchronisation of robot motion and image acquisition.
27th/28th of February 2018.  Kick off meeting.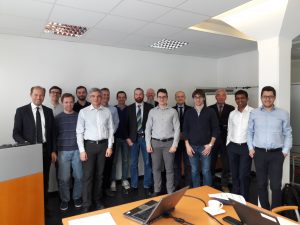 The SPIRIT project had its first meeting at Profactor in Steyr. At freezing temperatures below -10° the whole consortium met to discuss the first steps in the project. A detailed presentation of the various test cases and their challenges was followed by a planning process that covered the next 6 to 9 months. All partners provided substantial background in their fields and – due to past collaborations – a smooth start of the project could be achieved. Already at this stage the main interfaces could be clarified and a common understanding of the main goals and the next steps was achieved.
2nd January 2018. The project SPIRIT is started. The project's web page has been set up.